Karen Blixen Camp Safari in Kenya - 4 Days
MARA NORTH CONSERVANCY Mara North Conservancy is a beautiful wilderness area of more than 30,000 Ha. The Conservancy is a not-for-profit public company established on the 1st of January 2009 as a partnership between 10 member camps and over 800 Masai landowners. The aim is to create a best-practice, world-class conservancy with long term commitments to the environment, wildlife and local communities.
Karen Blixen Camp is set on the bank of the Mara River with the impressive Oloololo Escarpment in the front and the Mara plains behind; the location is spectacular; throughout the day elephants, giraffes, zebras and impalas come for a drink while a large hippo pod rest lazily in the river. The Camp situated in the beautiful Mara North Conservancy that forms the vital northwestern zone of the Masai Mara Ecosystem. The conservancy borders the Masai Mara National Reserve in the south of Kenya and is part of the Mara-Serengeti Ecosystem.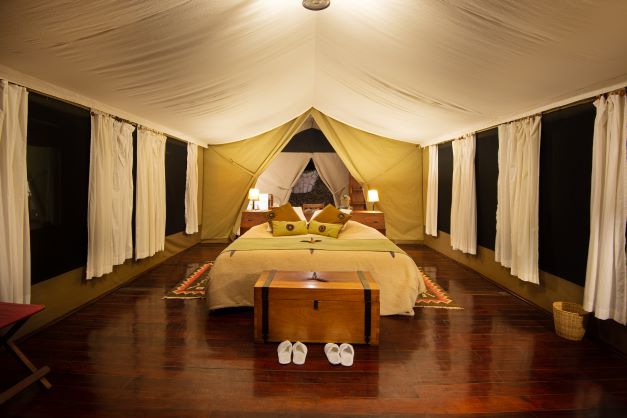 STYLE - Karen Blixen Cap offers an authentic 'yesteryear' experience for visitors wishing to gain that little extra from their safari. The Camp gives a feeling of the early 1920's era with beautiful and comfortable furniture. Long gone are the days when staying in a tented camp meant roughing it. You will find that Karen Blixen Camp is a step back in time with the luxury of today.
ECO ASPECT Fully powered by solar energy Constructed in most environmental conscious manner Waste water is led through a zero-waste sewage system and biologically purified.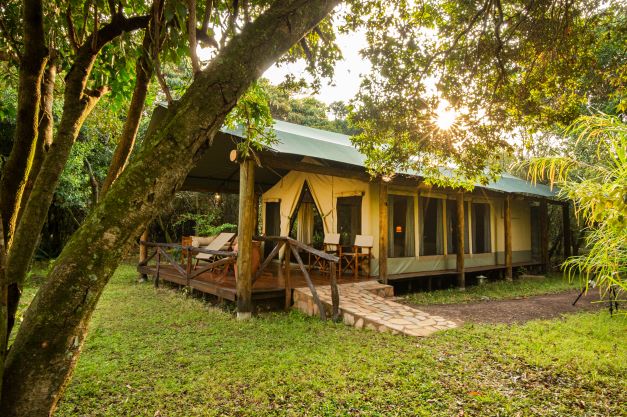 PROGRAM SUGGESTION:
Day 1: We pick you up from the airport or hotel and transfer you to the airport for your flight to Masai Mara.
Choose flight timings below.
Arrive Masai Mara and enjoy the tranquility of the mara north conservancy with game viewing drives and night game viewing drive.
Stay at Karen Blixen camp - Luxury Accommodation
day 2: Full day spent in masai mara with morning and afternoon game viewing drives and other activities.
Day 3: Full day spend in masai mara with morning and afternoon game viewing drives and eco morning walk.
Day 4: Breakfast and depart to the airstrip for your flight to Nairobi. Arrive Nairobi met and transfer to the Karen Blixen Musuem in Nairobi and then to your hotel or to the Jomo Kenyatta international Airport for your onward flight.
Costs: 3 NIGHTS / 4 DAYS SAFARI
Karen Blixen

Low Season

High Season

Peak eason

Prices Expressed

in United States Dollar

: 01 April – 30 June

03 January – 31 March

01 November - 22 November

: 01 July - 31 October

23 December -02 January

Per Adult Sharing

USD2100

USD2350

USD2550

Per Single Adult

USD2390

USD2700

USD2900

Child Sharing with 2 adults

USD1680

USD1880

USD 2040

Balloon Ride

USD525

USD525

USD525

One can add more number of nights at an extra cost and extra conservancy fees
This email address is being protected from spambots. You need JavaScript enabled to view it.
Cost includes:
- Full board accommodation
- Water, soft drinks, Tea, Coffee, local beers, house wines, Selected spirit and Vodka.
- Unlimited shared game drives per day (optional full day game drive).
- One night game drive within Mara North Conservancy
- Return airstrip transfers in Mara
- Guided camp eco walk
- Visit to the cooking school & bead project when in session
- Mara North Conservancy fees for 3 days
- Domestic flights Nairobi to Masai Mara to Nairobi
- Transfers in Nairobi
- Free Visit to the Karen Blixen musuem in Nairobi on the Last Day
- Travel Insurance by AMref Flying Doctors for 1 week Duration
Cost Does Not Include:
- Drinks not listed under inclusions.
- Tips and any other items of personal nature
- Bush breakfast, bush lunch, bush dinner and sundowner
- Laundry
- Bush walk safaris
- Masai Village Visit
- Exclusive use of vehicle
- Any other item not listed under inclusions
GENERAL INFORMATION Climate: The long rains generally start in mid April and last till mid June, whilst the short rains fall during the month of November. Even during these 'green' seasons it generally rains at night, with bright skies during the day.
Recommended equipment and attire: Light informal clothing such as shorts, t-shirts, dresses and sandals Hat or a cap Sunscreen Sunglasses Binoculars,Camera Batteries, Memory card ,
Temperatures: The hottest months tend to be October, January and February, whilst July and August can be quite cold, particularly during the evening and night when a warm sweater or jacket, long warm trousers is recommended. Temperatures range from 15-35 C.
Malaria: The risk of malaria is not high but it is recommended, that you take the necessary precautions and consult your physician before travelling.