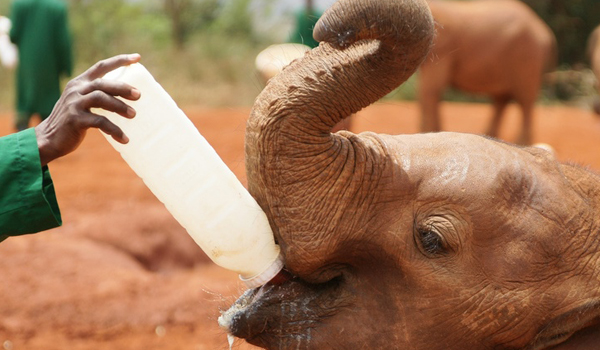 Daphne Sheldricks Elephant Orphanage Daily / 0930hrs / 3 Hours
Opens between 1100HRS and 1200HRS.
Kindly note the process for for visiting this attractions has changed.
To book the Elephants Orphanage Tour email us (This email address is being protected from spambots. You need JavaScript enabled to view it.) or whatsapp +254722370833 with the date and numbe of person (Adults and Children)
Visit a Elephant Orphanage
Get close with baby elephants
Feed elephants
Elephant orphanage caters for baby elephants and one can adopt to contribute to its conservation. The tour timings are around the feeding time where the guides tell the audience on the history of the organisation and feeds the baby elephants.
You will be picked up from your hotel at 10:00 on weekdays and 10:15 on weekends and drive to the center which can take around 30 to 40 minutes. Once you arrive you will take a walk through the nursery and you will explore the paths and trails the infants take. See a mud bath in action and walk around the stables that the orphaned elephants sleep in at night for warmth and protection, accompanied by their elephant keepers.

The feeding time is from 11:00 to 12:00. Afterwards, you are transferred back to the hotel.
Transport from you Nairobi hotel
Entrance fees
waiting charges
Personal expenses
Tips and gratuities
More information about david sheldrick wildlife trust and how to adopt an Elephant can be found on their website.
NB: please carry a hat or cap the sun can sometimes be very hot and apply sunscreen.
Review and let us keep you updated: Lastly, kindly write a short review on cruzeiro-safaris.com day tours on trip advisor to enhance our profile and confidence to other travelers searching to travel in Kenya and Tanzania and fulfill our vision of being the leading tour operator in quality services. Join us also on facebook and twitter.
"You are always welcome back, next time come along with your extended family and colleagues "