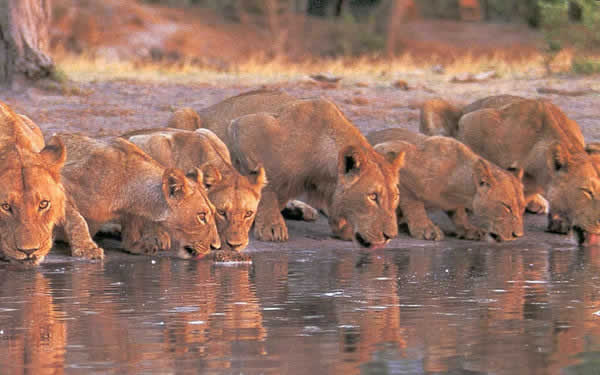 Fly to Amboseli National Park and Masai Mara National Reserve for 7 days:
Day 1
On arrival at Jomo Kenyatta International Airport met and transfer to the Nairobi Serena Hotel for the day. Safari Briefing and overnight.
Overnight: The Nairobi Serena Hotel (Dinner Included)
Day 2
Breakfast, then transfer to the airport for your flight to Amboseli National Park. Arrive Amboseli met and have a mid morning drive and drop off at the lodge for lunch. Afternoon depart for evening game viewing drive and then return to the lodge for dinner and overnight. Game drives in 4x4 wheel drives.
Overnight: Amboseli Serena Safari Lodge(Breakfast, Lunch and Dinner Included)
Day 3
Early morning wake up call. Early morning game viewing drive returning to lodge for full breakfast. Relax at the lodge. Lunch. Afternoon game viewing drive with a visit to the observation hill (from here the Mt. Kilimanjaro is visible on a clear day) (beautiful serene views from here of the Mt. Kilimanjaro and the ranges) returning to the lodge for dinner and overnight.
Overnight: Amboseli Serena Safari Lodge (Breakfast, Lunch and Dinner Included)
Day 4
After Breakfast. Fly to Nairobi and then to Maasai Mara where you arrive in time for lunch.After lunch embark on an afternoon game drive returning to the lodge in time for dinner and overnight.
Overnight: Mara Serena Safari Lodge(Breakfast, Lunch and Dinner Included)
Day 5 & 6
Two Full days in the Maasai Mara with morning and afternoon game drives. (you have options to visit the Masai village and have a feeling of the lifestyle of the Masai community, please note some that you may be required to pay some extra fees to be allowed in the 'bomas' or hut) or take on a ballon ride in one of the mornings
Overnight: Mara Serena Safari Lodge (Breakfast, Lunch and Dinner Included)
Day 7
Breakfast. Later, transfer to the airstrip for your flight to Nairobi. Arrive Nairobi met and transfer to the Nairobi Serena Hotel or to the Jomo Kenyatta Interntional Airport for your onward flight ( Breakfast Inlcuded)
Cost :
Period /

Prices in USD$ Dollars

Period of Travel

02 Jan - 31 Mar

01 Nov - 22 Dec

Period of Travel

01 Apr - 31 May

01 June - 30 June

Period of Travel

01 July - 31 Oct

23 Dec - 01 Jan

Price Per person Sharing

in a twin / Double room

$2827

$2730

$3374

Price Per single Room

or Solo Traveller

$3279

$2831

$3766

Balloon Ride with breakfast

Adult

Child 4-12years

$480

$250

$480

$250

$480

$250

Packages include:
Full board accommodation,
Flights from Nairobi to Amboseli to Nairobi
please note this flight allows 15kgs of luggage including hand luggage.
Flights from Nairobi to Masai Mara to Nairobi
Local Departure Taxes
Airstrip Transfers in Amboseli and Masai Mara
2 game drives per day
Bush Barbecue at Amboseli
Hippo Breakfast at Mara Serena
Park Entry fees
Airport transfers in Nairobi
What a truly life changing experience going to Kenya on a Safari! With the world being shut down with Covid, we delayed our trip for almost a year but once we were there (just after Christmas) we saw the magic that truly is Kenya and felt incredibly safe and sanitized the entire time. We took the 7 day Kenya Safari, starting with arriving at Nairobi where we were greeted by Julius at the airport and arriving to the beautiful Nairobi Serena hotel. We stayed there 2 night to adjust to the time difference and the food and hotel staff were exceptional. Definitely one of the most luxurious hotels I have been to. Then Julius took us to the airport in the morning and off we went on a small plane (it felt so adventurous!) to Amboseli where we stayed at Amboseli Serena (3 days) where everyday there were elephants just outside the compound. We would enjoy our evening wine on the balcony and just watch the elephants roam around, it was truly magical. The hotel and staff were lovely and it was so open and big, we went on game drives everyday and it was truly remarkable how much we saw (elephants, lions, zebra, flamingos, the list goes on and on). On the third day we were then taken back to the airstrip to go to our final destination, the Masai Mara. After a short flight, we landed on the airstrip of Mara Serena and it was unbelievable how vast and beautiful the savannah is. We were immediately taken to a game drive where we saw plenty of lions, and then to our hotel to check in and have lunch. Let me tell you, this hotel is amazing, it is the best view I have ever seen and being on top of the hill you see the Mara river and the Savannah all the way to the horizon. So much wild life just from your window. The game drives were exceptional and we saw the big 5 and plenty of baby lions! Our 11 year old daughter loved it and learned so much about the culture and wildlife. My husband and I were so bonded just being on this amazing adventure together. We had the time of our lives in the Masai Mara. After our last day we left after breakfast and flew back to Nairobi where Julius was there to take us back to the International airport, but first took us shopping, at my request, at the best souvenir spot he knew of. We were greeted there by Claudia who made all of this happen, she was there from when I first started looking into going to Kenya with my family. If I could give her 10 stars I would, she was exceptional and communicated the entire time, answering all my Covid questions, making sure I got everything packed and all paperwork in order (Covid test, visas, shots, etc.). She planned everything for me and rescheduled everything for me like 3 times (thanks to Covid) and never once showed the slightest annoyance about it. Spending the week in Nairobi, Amboseli and Masai Mara felt like a dream and I felt like it was the perfect amount of time to experience it all. I highly recommend this tour, you won't find any company that will do it for cheaper, trust me, I looked, the value is exceptional and the experience is priceless.