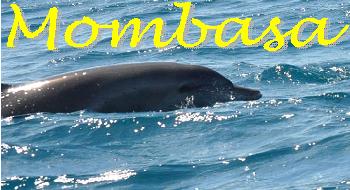 Kenya's most ancient city, Mombasa, is, strictly speaking an island, which boasts a long and proud history. First mentioned in a sailing guide, 'the Periplus of the Erythraean Sea, it was marked on 2nd century maps by the Egyptian cartographer, Ptolemy. Later, in the l5th century, the Portuguese navigator Vasco da Gama was chased away but others of his countrymen returned to take the town and build the massive Fort Jesus. Later, in the l9th century, Britain's anti-slavery squadrons brought a new form of imperialism, until independence in l963. THE FOLLOWING TOURS CAN DEPART FROM MOMBASA OR DIANI IN SOUTH COAST PLEASE SPECIFY HOTEL.
MOMBASA CITY TOURS
GROSS PER PERSON
USDOLLARS
NORTH COAST
SOUTH COAST
Half Day Mombasa City Tour - read more..
90
80
Half Day Shimba Hills read more....
145
120
One Day Malindi with Lunch read more...
180
200
Dolphin Dhow tracking ..read more......
150
140
Tamarind Evening Dhow with dinner
95
130
City Tour,Lunch Tamarind Dhow & visit Bamburi Nature Trail read more..
180
190
One day Tsavo East National Park read more...
290
320
2 days Tsavo East / West read more...
500/srs-80
420/srs-80
2 days Tsavo East Salt lick read more ...
475/srs-70
490/srs-70
2 days Tsavo East National Park read more...
370/srs-60
390/srs-60
3 days Tsavo East, Amboseli & Tsavo West read more...
965/srs-130
990/srs-130
4 days Tsavo East, Amboseli, Tsavo West Camping read more ..
990
995
3 days Tsavo East /Salt lick / Finch hatton
1010/srs-240
1035/srs-240
3 days Maasai Mara by air from Mombasa -Kichwa tembo read more...
1910/srs-380
1910/srs-380
7 days Summer Package from Mombasa,Amboseli,Tsavo read more..
1099/srs - 350
1099/srs-350
****SRS - single room supplement
All day tours require a minimum of 4 people less people will be required to pay a surcharge.. Prices may be paid in Euros!! At the prevailing locally available currency conversion rates and not the internet rates. .. If you are only 2 please request for current price. Pick up times will vary according to the hotel. These tours by Cruzeiro Safaris are available All seasons
This list is not exhaustive please ask us for more tours that would interest you!!!!!!!!!!!
Pick – up from your hotel for this Kenya Safari tour can vary depending on location - this is to be confirmed by our sales representative.
For Reservations or This email address is being protected from spambots. You need JavaScript enabled to view it. Please indicate the name of your hotel and number of people Adults and Children.

Pick up from Moi International Airport Mombasa will attract a surcharge of airport transfer please make sure you furnish us with the flight arrival times. For Security reason we shall not pick up people from residential homes. Groups of not more than 20 will use a bus for transport.
Reservation and Cancellation Policy is detailed on terms and conditions which always apply.
Review and let us keep you updated: Lastly, kindly write a short review on cruzeiro-safaris.com day tours on trip advisor to enhance our profile and confidence to other travelers searching to travel in Kenya and Tanzania and fulfill our vision of being the leading tour operator in quality services. Join us also on facebook and twitter.
"You are always welcome back, next time come along with your extended family and colleagues "