Camel Derby Fans Safari to Maralal, Kenya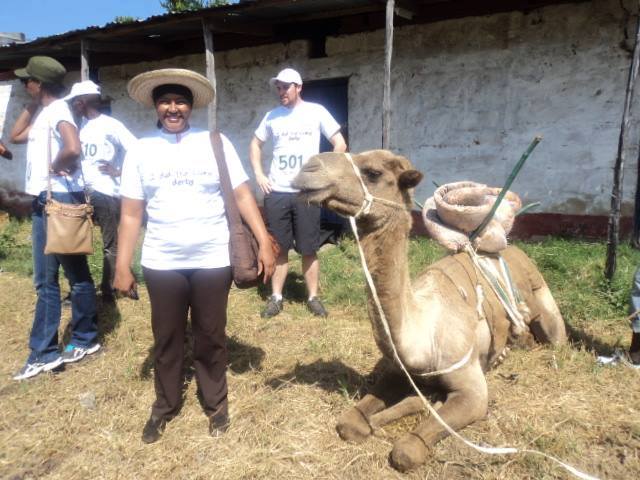 FROM 26 - 28 AUG - NB exact dates to be communicated.
We started taking people to the Camel Derby in 2013, travel with the people who know the journey. Review from our trip advisor clients Maralal Camel Derby fun! : Reviewed September 10, 2013: Traveled with Cruzeiro Safaris to the
Maralal Camel Derby on 30 August - 1September.The event was amazing and I would recommend it to everyone. There was an amazing mix of local culture with Camel racing. Be warned you need gloves and good shoes if you are going to ride the camel (it hurts!) but great fun.Cruzeiro Safaris were excellent, they arranged everything and although the journey was very long (approx 10 hour drive from Nairobi) it was worth it. Accommodation was basic in tents (but what we had expected and paid for) and the food was good. I also had to cancel a few people from our group at late notice and they were very understanding.I would recommend others to use them if planning a trip in Kenya.Visited August 2013
The Program / Itinerary
Friday 26th August.
0630 hrs - Leave Nairobi in the morning and drive northwards to Nyahururu for lunch then proceed to Maralal in the evening. Transit time 11hours.
The journey from Nairobi to Maralal is a long and bumpy one and windy please carry warm jackets.
1600 hrs - Arrival of participants and registration of entrants at the Secretariat desk. Orientation on camels, rules and routes. Meeting of Amateur riders.
1900 hrs – Dinner and overnight at the campsite.
Saturday 27 th August.
0700 hrs – Breakfast
0800 hrs – Continued registration (other races except Amateur)
0900 hrs – Briefing of Amateur Camel entrants and handlers at briefing point.
0930 hrs – Amateur riders and handlers assemble and prepare at the starting point at main road.
1100 hrs – Flag off amateur camel race. All participants must wear official numbers.
1130 hrs – Flag off kids bike race.
1230 hrs – Lunch
1400 hrs – Entertainment / traditional dances. Triathlon team and individuals preparing camels and bikes at starting point
1430 hrs – Flag off individual triathlon race
1530 hrs – Flag off disabled / special needs race
(1400 – 1630 hrs – entertainment for all and social evenings for the organizers, families, friends and guests)
1900 hrs: Dinner
Samburu cultural nite show. Traditional foods, attire, ornaments and age groups.
Sunday 28th August
0700 hrs – Breakfast.
0800hrs - Leave for Nairobi and you will carry picnic lunches to arrive nairobi in the late evening . Transit time 11hours.
Cost is USD220 or Kshs.22,000 per person in 2 man -sharing tent.
Cost In own Tent USD250 or Kshs. 25,000
All Payments sent through Lipa Na Mpesa and Online Payments with Credit Card Pesapal.com
All Payments are Non- refundable except in extreme cases.
Cost will cinlude:
- Camping tents
-Camping Matteress
-Standard Size Sleeping bag
- Lunch at thompson falls and dinner at Camping site on the 26th.
- Breakfast, Lunch and Dinner at Camping Site - 27th
- Breakfast, and packed lunches - 28th.
-Transport in Safari Truck to fit 25 people.
- 1 little of mineral water per person per day.
All food served at the campsite is fresh and prepared onsite.
There are only cold showers and we fetch water in buckets so please note NO FRILLS.
NB: Please carry warm clothing, umbrella and comfortable walking shoes, suncsreen, sunglasses and a hat or cap.
This email address is being protected from spambots. You need JavaScript enabled to view it.