Karen Blixen/Giraffe Centre and Kazuri beads Centre
Twice Daily / 3 hrs / 0900hrs and 1400hrs
Tour the Karen Blixen museum, The giraffe Centre and Kazuri beads craft centre within the environs of Karen.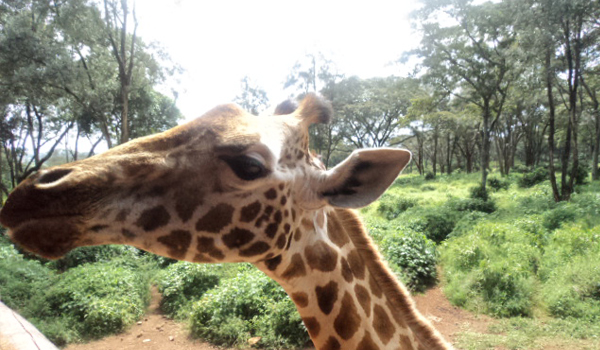 Cost is USD70 per person - For INSTANT BOOKINGS - read below
We start of to the Giraffe Centre, Headquarters for the African Fund for Endangered Wildlife made famous by 'Daisy Rothschild', a giraffe calf rescued from Soi, on the Western Kenya border, Daisy and her family form only a small part of a herd of these gentle giants, living in a semi wild state at Giraffe Manor. These animals will come to a protecting wall to be fed when you can come eye to knee with the tallest animal in the world.

Make most use of your ticket when you go to the Giraffe center nature trail up untill the Gogo river.
This is where most people don't get to see and its a fascinating place to walk in the nature, with bushes on either side and birds giving the most wondrous songs. Reach down to the river and search for giraffes in the wild as well but be careful you must stay at least 15meters from the Giraffes.
So the next time you visit the Giraffe center remember to visit the nature trail as well and make most of your tour ticket. The trail will take about 1 hour going up and down in a relaxing pace.
We then drive you to relive a small part of Kenya's colourful history. Karen Blixen's home, "Mbogani House", made famous by the film 'Out of Africa' has been restored by the Danish Community of Kenya, and comes under the umbrella of the National Museums of Kenya. Karen Blixen lived in the house from 1917 to 1931 when her farm had to be sold and she left Kenya never to return.
Inside the house you can see the books and cuckoo clock which were presented to the museum from the sets of the film. There is also a picture in the lounge and a china turkey which were Karen's own possessions. On the bookcases you will see the brass plaque on which 'DHF' (Dennis Finch Hatton) are engraved.
From the garden you can enjoy the magnificent views of the Ngong Hills and at the front of the house look out for the original millstone tables from which she conducted so much of her farm business.
Leaving the Museum,
Drive or walk a short distance to Kazuri Ltd where a team of African women hand paints a variety of ceramic beads for stringing into high fashion necklaces. Buying these necklaces you help the African women who are supported by the center. This tour may be combined with lunch at the KarenBlixen coffee gardern, the carnivore restaurant or similar at an extra cost.
HOW TO MAKE INSTANT BOOKING – read all information carefully
Make Payments to https://payments.pesapal.com/cruzeiro-safaris .
Cost Per person USD70 -valid 2 people and above
Cost per person USD90 - valid for 1 person without group
Cost per child USD 40 - ages 3-17 years –must be booked together with adult
Once the process is complete please forward payment confirmation email to This email address is being protected from spambots. You need JavaScript enabled to view it. and clearly indicate the following details:
- Full names
- Number of people - Adults and Children for example 5 adults and 2 children
- Date of Tour for example DDMMYYYY and time for example 9am or 2pm (expressed in local times)
- Hotel Name and room number (if available) for example Hilton hotel room xxxx
- OR Flight information for example KQ101 Arriving Nairobi at 0500hrs from London – please add USD25 for airport pick up or pay in cash upon arrival
- Telephone Number (local or International if roaming)
NB: PLease carry hat or cap and comfortable walking shoes
Reservation and Cancellation Policy is detailed on terms and conditions which always apply.
Review and let us keep you updated: Lastly, kindly write a short review on cruzeiro-safaris.com day tours on trip advisor to enhance our profile and confidence to other travelers searching to travel in Kenya and Tanzania and fulfill our vision of being the leading tour operator in quality services. Join us also on facebook and twitter.
"You are always welcome back, next time come along with your extended family and colleagues "