Balloon Safaris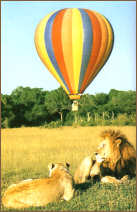 Adventures in the sky - from a birds eye point of view - Balloon Safaris
Imagine Drifting Slowly And Silently Over The Vast African Plains. As The Sun Breaks Over The Horizon, Spread Beneath You Is A Panorama Of Africa Unique To Anything You Have Ever Seen Before: Elephant of the savannah Looking Improbably Small, Antelope Flowing In Waves Like Schools Of Fish Across The Vast Plains; A Pair Of Lionesses Stalking A Herd Of Wildebeest; And Cheetah Glancing Up As The Shadow Of The Huge Balloon Crosses Their Paths.
Per person USD499 and Child (7-12 years) USD345
You Will Be picked from Your Lodge At 0600 Hours For A 0630 Hours Take-Off.

Once Aloft, The Balloon Floats Gently Over The Plains, Giving Passengers A Bird's Eye View Of The Game Below As The Sun Rises Slowly Above The Horizon.

After Approximately One Hour The Balloon Will Land And The 'Chase Car' That Has Been Following All The While, Will Arrive With Your Breakfast, Cooked Over The Burners Of The Balloon: Fried Bacon, Sausages, Mushrooms, Eggs, Toast, Freshly Squeezed Juices, Platefuls Of Succulent Kenya Fruits, Homemade Bread Rolls And Croissants, Jams, And Plenty Of Steaming Hot Cups Of Freshly Brewed Kenyan Coffee And Tea. And Of Course, The Piece De Resistance, Glasses Of Effervescent, Bubbling Champagne.

As You Tuck In, Famished From A Morning In The Fresh African Air, The Balloon Captain Signs Your Certificate Of Flight. Fully Replete, And Breakfast Over, You Will Then Be Returned To Your Lodge, Game Viewing Enroute, Arriving Back At Approximately 1100 Hours.
How can i book for a balloon trip? we will show you how....please do chat with us online.........
prices available on request ...........