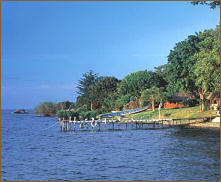 Lake Victoria is the world's second largest freshwater lake covering an area of 67,850 kms (26,200 sq miles). This vast expanse, about the size of the Republic of Ireland, forms the main headwaters of the River Nile. Its Kenya focus, Kisumu, is 350 kms (220 miles) from Nairobi by road.

Lapped by the waters of the Lake Victoria, shaded by giant fig trees and lost to the world. The island is an oasis of tranquility and an ideal retreat from the hustle of the 20th century. It has no roads and its fishing villages preserve a colorful way of life. The chance to catch a giant Perch drawn many. Some of the abundant birds and glimpses of playful Otters; others to explore the lush plant-life and friendly villages. Day trips are good but many stay just for the spectacular sunsets as the sun sinks beneath the Lake

Only a 30 minute picturesque flight from the Maasai Mara, a day excursion to lake Victoria. Fly in and aircraft to the Island early in the morning in time for a full English Breakfast while overlooking the lake - a fabulous hobby of fishing. Enjoy the lake either bird watching along the lakeshore or at bird Island, fishing for Nile perch, otter watching, visiting the colorful local fishing village or simply relaxing by the swimming pool in the camp.

A delicious lunch with freshly caught fish can be served on the lake side deck, perhaps accompanied by glass of chilled white wine. Your return to the Maasai Mara delivers you in time for an afternoon game drive before you return to the camp / lodge for sun down.
Prices are available on request.