Carnivore (Lunch or Dinner)
Daily / 1230hrs & 1900hrs (maximum waiting time is 3 hours)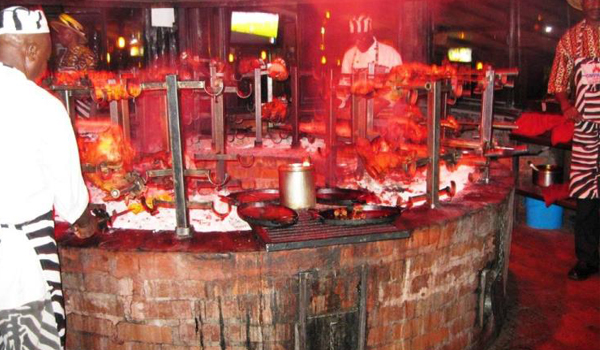 Minimum of 2 people each person pays USD75.
Dinner or lunch at the Carnivore Restaurant. Famous for it's succulent steaks, Barbecue dishes and huge variety of game meat.The Carnivore has almost now become one of Nairobi's "musts" and as much a tourist attraction as the National Museum! A 20-minute taxi ride from Nairobi's city centre, the Carnivore Based on the Brazilian concept of an open coal fire, the focal point of the main restaurant, an enormous variety of meat, is roasted on huge metal spears and then carved at the tables on to piping hot plates. Fresh salads, unusual side dishes and assorted tasty sauces accompany beef, pork, lamb, goat, sausages, quail, chicken, gazelle, hartebeeste, zebra, wildebeeste, and occasionally crocodile . If you have any room left after all these unlimited servings, a variety of puddings are on offer before mugfuls of Kenya coffee herald at the end of the meal.


** Each of 1 ,2 or 3 use a salon for transportation.
**Each of 4 and above use a van or big bus
Pick – up from your hotel for this Kenya Safari tour can vary depending on location - this is to be confirmed by our sales representative.
Reservations: Send email to iThis email address is being protected from spambots. You need JavaScript enabled to view it. please furnish us with;
- Full Names
- Number of people and indicate ages of children
- Tour / Safari booked
- Telephone number (local or international if roaming)
- Hotel name and room number
Pick up from the Jomo Kenyatta Airport Nairobi and Moi International Airport Mombasa will attract a surcharge of airport transfer please make sure you furnish us with the flight arrival times. For Security reason we shall not pick up people from residential homes. Groups of not more than 20 will use a bus for transport.
Payments: Bookings made within 48hours will be paid on cash basis.We accept VISA, MASTERCARD AND AMERICAN EXPRESS locally. Please note we don't accept traveler's cheques. Payments can be made with local currency using the IATA monthly Kenyan rate and not the hotels nor local bank rate. For bookings starting 30 before date of travel you can pay securely online which includes PayPal payments into Kenya. NB: We shall have to send you an e-invoice on email.
Reservation and Cancellation Policy is detailed on terms and conditions which always apply.
Review and let us keep you updated: Lastly, kindly write a short review on cruzeiro-safaris.com day tours on trip advisor to enhance our profile and confidence to other travelers searching to travel in Kenya and Tanzania and fulfill our vision of being the leading tour operator in quality services. Join us also on facebook and twitter.
"You are always welcome back, next time come along with your extended family and colleagues "